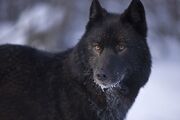 Yuvi (VWF001) was born in 1995 outside of Yellowstone National Park. Her mother was a unnamed gray she-wolf while her father was a red male. She was born with three littermate brothers; Theo, Shady, and Shoy. They were part of a small family unit that composed of her parents, a yellow yearling female, and a black yearling male. All four pups survived to adulthood and began helping out around the pack. Sometime, Yuvi and her brothers were believed LAST SEEN as well as their former pack.
Yellowstone/ Slough Creek
Edit
Yuvi wasn't dead or missing. She had been caught by a rancher bobtailing his cattle, he was taken by her unusual appearance and she was captured and sent to live in Yellowstone, where she would hopefully be broken from these bad habits.Yuvi was ID chiped and studied as a lone wolf, in hopes that she would try joining one of the resident packs, but she showed no interest in that, or mating with roving males.
Yuvi was later spotted on Little Butte with a wolf pup, DNA tests later confirmed that the pup, named Maudie, wasn't related to Yuvi so it is believed that she must of adopted the orphaned pup. The two wolves are quite close and had have several encounters.
Yuvi, her three brothers, Maudie, and some wild wolves, joined together to make a pack. Yuvi didn't bother fighting for dominance nor did she show interest in the unrelated males. The pack stayed together for a year and a half before Yuvi and Maudie, as well as Yuvi's brothers dispersed and the rest of this pack was wiped out.
Yuvi and Maudie were once again just two wolves alone and were like that for the rest of that year (Maudie was a yearling by then). Then in Spring the two she-wolves once more joined Yuvi's three brothers and a unknown gray female. Yuvi once more didn't try for the role of Alpha, most likely because the males were her brothers. The female was a old wolf however, and was able to have two surviving litters before she died from complications having her third litter (all the pups were stillborn).
Yuvi was the oldest, but once more she didn't try taking power and as the female's oldest litter were still too young, Maudie took dominance at the age of two. It was then that things changed between the two she-wolves. Maudie soon became pregnant for the first time ever and began acting aggressively towards Yuvi and finally the dark wolf had enough and left the pack.