Yellowstone Map
Edit
Yellowstone has six habituated wolf packs currently.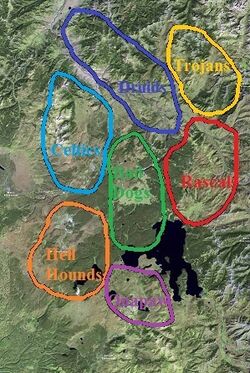 Bad Dogs Pack (Green)
Celtics Pack (Light Blue)
Druids Pack (Blue)
Hell Hounds Pack (Organe)
Rascals Pack (Red)
Trojan Pack (Yellow)
Quapaw Pack (Purple)
Please note there are wild pack that are not monitored.
Wolf Packs
Edit
The Bad Dogs were formed by three females and three males in early 1995. The six wolves established a small territory in the heart of Yellowstone and grew fast under Grumpy Dog's leadership. After her death, her daughter Heya became the new alpha. Bad Dog was killed and so Cassidy became the alpha male.
The Bad Dogs hold a territory in Hayden Valley and are neighbored by the Druids, Celtics, Rascals and Hell Hounds.
The Celtics was formed in late 1996 by two Bad Dogs females who joined forces with two Hell Hound rovers. Pan and Butch have settled into the alpah positions.
The Celtics hold a territory in-between the Druids, Bad Dogs and Hell Hounds and a wild group.
The Druids were founded by two sisters that were released in early 1995. The two females were joined by one wild male and established a pack. Change came when alpha female Rapunzel died, her niece Oriole rose to power.
The Druids hold a territory in and around the Lamar Valley. Their rivals are the Celtics, Rascals and Trojans.
The Hell Hounds was formed when four females wolves were relaeased in late 1995. The females teamed up with three wild males. Molly and Humphry settled into the alpha roles, however Molly was ovethrown by Polly. After Polly was killed during a group encounter, Holly became the alpha female. She was killed by a a car on the main road and Dolly seize the alpha role.
The Hell Hounds established a territory on the far south side on the Geyser Basin. They are neighbored by the Celtics and Bad Dogs.
The Rascals was formed when three females and two males were released in early 1995. For years the pack was headed by Roo and Rampage till early 1997 wehn Roo died. Her daughter Bella established a shakey domiannce. Rampage left the group so Prowler took his place.
The Rascals's rivals are the Bad Dogs, Druids and Trojans. Their territory is the Yellowstone Delta.
The Trojans were founded by two three Rascals females and tow Bad Dogs males in 1996. At first Rugrat seized the alpha female position along with Forest. After Rugrat was killed Puppy took charge of the Trojans.
The Quapaw was formed by three Rascals females, three Hell Hound males and one tag-a-long pup. River Song and Anubis have settled into the alpha positions. Their territory is coming soon.