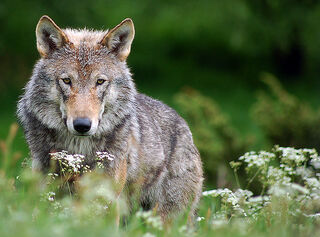 Josephina is played by Head.Boy.Hog.
Josephina (YDF014) was born in February 1996 in the Druids Pack. Her mother was Rapunzel and her father was Prince. She had one litter-mate sister named Starlight(YDF012) and two brothers Tarrent(YDM011) and YDM013. All four pups survived to adulthood. Rapunzel died in March 1997 and Oriole became the new dominant female. Josephina left the Druids in August 1997 because Oriole wouldn't let her mate.
Not being allowed to mate, Josephina left the Druids, wanting to join another pack. She tried the Rascals but wasn't welcome there. Finally, she made her way in to Quapaw territrory. It took a while but River Song finally accepted her in to the pack. However, she wasn't in the Quapaw for long She was Last Seen in December 1997.